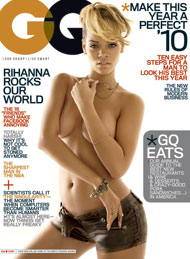 Electronic versions of magazines look like the Way of the Future—whether it's the much-heralded "iTunes for magazines" team effort, or Hachette's solo adventures in a similar direction.
But do people really want to read magazines on their iPhones? Maybe not, reports The Business Insider. Neither the Esquire nor GQ iPhone apps have broken into Apple's top 100.
T.B.I. hashes out potential issues with the magazine apps' pricing and promotion, but the final problem discussed—SIZE—seems like the most important. At this point, at least, peering at stuff on your phone is not a reading experience that feels much like leafing through a big perfumed glossy.