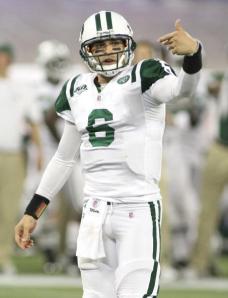 In the Post, Mark Cannizzaro has an equation for you this morning. How do the Jets—lwith the number-one defense and the number-one rushing game—end up at 6-6? Cannizzaro seems to chalk it up to the Jets being historically unconventional, and not the fact that their rookie quarterback has repeatedly thrown them out of games.
Speaking of their rookie quarterback who throws them out of games, everyone is holding their breath, hoping he can play this week despite his bum knee. These two stories, it should be noted, run on the same page in the Post.
Both papers check in on the Giants and how the win over Dallas could be a turning point. In the Daily News, Gary Myers is worried about Philly becoming the Giants' "Daddy," since they've had their number lately. Personally, I'd like to see "Daddy" banished from the sports lexicon, but that seems unlikely at this point.
Weirdly, none of the above is your back cover. Both papers went for offseason baseball this morning. The Post maintains its fascination with Detroit outfielder Curt Granderson, who the Yankees are apparently trying to swing a three-team deal to get. The Daily News continues to shame the Mets into signing a big free agent. They run Angels ace John Lackey over the headline "GET A CLUE ON NO. 2." John Harper makes the case that the Mets need a number-two starter, but honestly, don't the Mets need a lot of things?