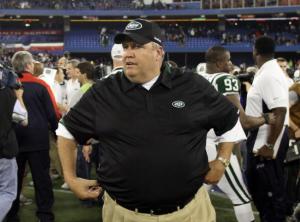 The Giants would like you to know they're very sorry for closing out Giants Stadium–and ending their own playoff hopes–with a 41-9 loss to a sub-.500 Carolina team that was playing its backup quarterback.
"SORRY BUNCH," says the Post's back cover, and encourages any and all Giants fans not to accept the apology. George Willis isn't having it.
[I]t's too late for apologies from a team that has an overrated talent level and clear coaching deficiencies, especially on the defensive side. Apologies won't wipe the slate clean, and the honeymoon from winning the Super Bowl is over, too. It's up to Coughlin to fix this mess so he won't wind up apologizing for his team's performance this time next year, too.
Gary Myers thinks the ruddy coach needs another new personality.
He needs to reinvent himself again. Of course, there's no need to revert to the pre-2007 Coughlin days, when he was a tyrant and lost the locker room. But just as he connected with the players during the Super Bowl year by being more player-friendly, he needs to reevaluate his entire approach.
Or maybe Coughlin needs to get back to basics. After all, the team was noticeably lacking in Coughlin's trademark motivational t-shirts this year. Maybe Coughlin needs to watch more inspirational Cuba Gooding, Jr. movies with his wife this offseason, and then come back next year with something like the "Cut It Off!" shirts that carried the team through their Super Bowl run.
Speaking of Super Bowls, the Jets are playing yet another Super Bowl this week, as Jim Leonhard tells us.
"This is the Super Bowl right now for us," Leonhard, the Jets safety, said yesterday. "We can't lose. There's no B.S. like, 'We need to win and this needs to happen.' Win and you're in. That's it.
Rex Ryan had a different metaphor. "We're right there — 'Alive and Kicking,' like the Simple Minds song," Ryan said.
Everyone's wondering if the Bengals will rest their starters since they've already locked up a playoff spot. Jets linebacker Bart Scott reminds the Times that he sure has hit Bengals quarterback Carson Palmer a lot over the years. But Bengals' coach Marvin Lewis isn't taking the bait; he was coy yesterday on how he'll handle his team. And he offered a rather safe prediction regarding his counterpart.
"Rex will be Rex," Lewis said, laughing. Asked to elaborate on what that meant, Lewis said: "Big. Gonna come big. That's Rex's motto: Go big or go home. He's going to come big."