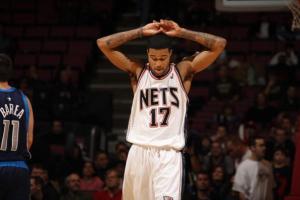 It's a mirror match today on your back covers. Both papers call the Nets the "BIGGEST LOSERS" after last night's loss put them at a record-setting 0-18.
The Post is a little more lively, giving the headline an exclamation point and running a photo of two fans with paper bags–topped by Santa hats–on their heads. "Do you know how hard it is to lose 18 straight games in the NBA?" wonders Mike Vaccarro, who cites the Knicks as evidence that even awful teams can have a good night. And he doesn't buy the fact that anyone in the league could possibly respect this team.
"We respect every opponent," was the diplomatic assessment of Dallas coach Rick Carlisle, which sounds like a distant cousin of one buddy describing a girl to another buddy: "She has a great personality."

The Daily News takes a somber tack. Mitch Lawrence writes that it could be awhile before this streak is over, and he gets some historical perspective from team president Rod Thorn.
"The only time it's been this bad, for me, was when I was an assistant coach with the Nets, the year we sold Dr. J to Philly. We lost 13 straight games and I had to sit there on the bench, through it all, watching Bubbles Hawkins shoot."
If only the Nets had someone named Bubbles Hawkins to liven things up this year. The Daily News captures the mood pretty well with a morose shot of the bench on the back cover.
But at least no one is crying. Word leaks this morning that Jets running back Thomas Jones tears up during his emotional pre-game pep talks, and not just once or twice like Rex Ryan.
"Most of the time," fullback Tony Richardson said, "there are tears in his eyes."
So your head coach, starting quarterback and starting running back have all gotten misty-eyed this year. Sounds like an emotional locker room. But Rex Ryan isn't crying about rookie Mark Sanchez's struggles in his first 11 games; he even has an explanation: "You play this game long enough, bad things are going to happen to you unfortunately."