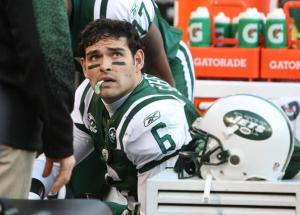 A few days after pumping up the Jets' playoff chances, the Daily News passes on a gift of a back cover from Rex Ryan.
"Manning, Clark, Addai, Reggie Wayne, Freeney, Mathis, Brackett . . . all of those guys will not play," Ryan told the media at yesterday's press conference. "Oh, hold up, that was my wish list for Santa Claus."

It's vintage Ryan, and the Post can't resist putting the coach's head on the body of someone sitting on Santa's lap. "The reality for Ryan and the Jets is this: With Christmas Eve upon us, they've already received enough gifts in recent weeks to max out 10 toy drives," writes Mark Cannizzaro.
The Daily News is much more serious about the team this morning. Rich Cimini questions the oft-repeated comparison between Mark Sanchez's rookie year to that of Peyton Manning, who holds the rookie record for interceptions at 28.
Maybe Mark Sanchez will feel that way one day, but that day won't be anytime soon.

With his interception total growing faster than a holiday credit-card bill (he's up to 20), Sanchez sounded remorseful, admitting he's letting his teammates down. He said he's still confident, still working hard, but he appears to have lost some of that youthful enthusiasm.
Sanchez got serious too. He hearkened back to high school, and compared his own journey to Joseph Cambell's "The Hero's Journey." Apparently Sanchez considers himself in the belly of the whale–the end of the initiation in Campbell's monomyth process.
"Hopefully, it's short," he said, "because the acid in the belly doesn't feel very good right now."
As soon as he emerges from the belly of the whale, Jets' fans can look forward to the "Initiation" portion of Sanchez's journey: The Road of Trials (look for things happening in threes), The Meeting with the Goddess (Hilary Rhoda?), Atonement with the Father (a good slide ought to do it), Apotheosis (the off-season?) and then, finally, the Ultimate Boon. Get your season tickets now!
With all that good material, it's kind of a mystery why the Daily News runs a bland back cover about the Giants playing their last game at Giants Stadium. Inside, all the players offer up the obligatory quotes about how extra-important the game is because it's the last one. Hard to imagine that's really their motivation with a playoff spot on the line.
But even this bland story gets mythical. In one of Steve Serby's classic Q-and-A's, John Mara talks about the early days of the stadium.
Unfortunately . . . any enthusiasm he had for the building was tempered by the fact that we had such lousy teams. We were in that period that I refer to as "The Wilderness."