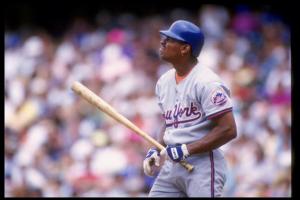 Your sports pages have spent days hounding the Mets for losing out on this winter's big-names, but Mike Vaccarro takes a moment to pause and reflect this morning.
How many times do you need to have anvils fall on your head before you take a step out of the way? Which is to say, how many times do you have to sign Kevin Appier and Bobby Bonilla before you recognize the difference between attracting the cream of a good free-agent class (see Sabathia, CC, and Teixeira, Mark) and the prettiest homecoming queens of Homely High?
Vaccarro thinks the Mets' current target, Jason Bay, is basically the Bonilla of this year's crop, which can't be what Mets' GM Omar Minaya wants to hear as he mulls adding a fifth year to his current four year offer, in what a Post headline calls a "face-saving move."
But apparently the Mets are pausing too, looking around the league and wondering whether anybody else is actually bidding on Bay's services. ""We're not going to bid against ourselves," one Mets person told the Daily News.
Or will they?

It's Thursday, so it's Mark Sanchez Day. His weekly Wednesday chat didn't yield that many entertaining quotes this week. Basically, he really wants to start this week, but promises to tell Coach Ryan if his knee isn't feeling well. "If I gotta wear roller blades, I'll wear roller blades," Sanchez said. But Filip Bondy–who really wants the kid to show some progress–suggests, I think, that Sanchez is still funnier than Kellen Clemens.
Ask Jerricho Cotchery the difference between Kellen Clemens and Mark Sanchez in the huddle, he'll tell you it's like switching from Mike Wallace to Jimmy Kimmel at quarterback.