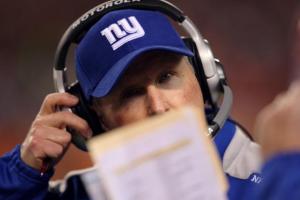 "We ascended tonight," Tom Coughlin said of his team's 45-12 thrashing of the lowly Redskins last night.
Both your tabloids wonder where this particular team has been after a midseason collapse threatened to keep them out of the playoffs.
"Who were those guys? And where the hell have they been?" wonders Steve Serby in the Post. In the Daily News, Tim Smith says that if they had just been playing well all season, they would be mentioned in the same breath as other teams that have been playing well all season.
If the Giants had played the style of dominating football that they did against the Redskins Monday night all season long, they would have locked up the division three weeks ago and would be in the conversation with New Orleans as the cream of the NFC.
The Daily News' Ohm Youngmisuk might have hit upon one reason the Giants looked so good last night.
Turns out all the Giants needed to work out their defensive woes was a chance to play Jason Campbell and the utterly hopeless Washington Redskins.
The Jets aren't hopeless after all, says Rex Ryan. He apparently went back on his declaration that his team is out of the playoffs, and now thinks they're in better shape than they were before losing to the Falcons on Sunday.
"I was dead wrong," Ryan told the players, using the same line to open his news conference a few hours later.

At that point, he should've passed out rose-colored glasses.

"We're actually in a better situation right now than we were last week at this time. That's unbelievable," Ryan told reporters, spinning at its finest. "We've got a chance. We've got a chance to make the playoffs. Hey, we're going for it, no doubt."
No long-shot stab at the playoffs would be complete, of course, without declaring a December Super Bowl. Take it away, Braylon Edwards.
"This is pretty much our Super Bowl, not ifs ands or buts about it."