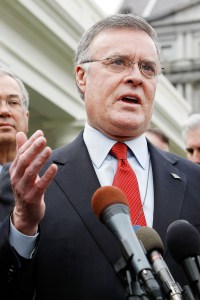 Even after it paid back its TARP loans and freed itself from the strictures of the Pay Czar–a move that was supposed to make it more amenable to executives–Bank of America still can't find someone willing to take its C.E.O. job.
Its top candidate, Bank of New York Mellon chief Robert Kelly, dropped out yesterday after a series of interviews. "After talking with them, I firmly concluded that my place is here," Mr. Kelly wrote to Mellon employees.
He's at least the fifth big name to shy away from the top job since outgoing C.E.O. Ken Lewis announced his resignation in September, and Mr. Kelly appears to have been the last outside candidate under consideration. So, with just two weeks until Mr. Lewis's planned departure date, BofA is left to gaze around its office once again.
But Mr. Lewis has said he'll stick around until someone is hired, leaving open the possibility that, perhaps, Mr. Lewis's "plan" not to be there next year could be on hold indefinitely, maybe even permanently.