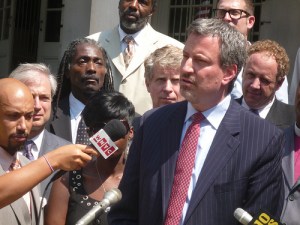 The U.S. Attorney's Office for the Southern District of New York subpoenaed the Working Families Party in connection with work done during the 2009 elections, Liz reported earlier tonight .

"We welcome this inquiry," said Dan Cantor, the head of the Working Families Party, in a public statement. He said the probe will prove "[o]ur work has complied with both the spirit and letter of New York City's Campaign Finance Law as well as all relevant state and federal election laws, tax and not-for-profit corporation laws."

I called the office of public advocate-elect Bill de Blasio, who receieved crucial help from the W.F.P. during the primary, to ask if he had gotten a subpoena too. A spokesperson confirmed that he had.

"Like many campaigns that purchased D.F.S.'s services, we have received requests for information from the U.S. Attorney's office," said de Blasio spokeswoman Rebecca Katz. "We will be cooperating fully with their inquiry."

It looks like de Blasio was the highest-level official to be subpoenaed. Comptroller-elect John Liu didn't use the W.F.P., and the organization was split over whether to back Bill Thompson for mayor. The W.F.P. did also bring more than half a dozen new City Council members to victory.

During the primary, de Blasio's opponents tried sinking his candidacy by raising questions about the W.F.P.'s practices.

In September, challenger Eric Gioia sent de Blasio a letter complaining about "the secrecy and obfuscation regarding your campaign's relationship with the WFP and its affiliated entities."

More recently, the party has come under scrutiny for allegedly floating city campaign rules on spending and reporting requirements.

The W.F.P.'s treasurer, Mike McGuire, abruptly resigned from his position in September when he and the party were unable to reconcile "the differing views" of his role.

A lawyer for McGuire said he is not aware of his client being contacted by federal authorities.

A spokesperson for the U.S. Attorney's office declined to comment on the subpoenas.