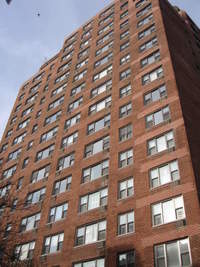 "We finally took the plunge!" The eager first-time homeowner, Gavin Parks, told The Observer. The mergers and acquisitions consultant was referring to his recent $1.6 million purchase at 61 Jane Street, but he may well have been referring to the other recent plunge he and wife, Elizabeth, took—their June nuptials. Indeed, the two-bedroom, two-bathroom ninth-floor co-op apartment is a perfect newlywed nest. Big enough for a baby if one comes soon but not dauntingly spacious if the stork takes a while to deliver.
The seller is former Vassar College president Frances Daly Fergusson. Ms. Fergusson, who could not be reached for comment, served as president of the college for 20 years, resigning in 2006. But don't worry, the 65-year-old is nowhere near retiring—the former college president continues to serve on the boards of countless charities and corporations, including the Board of Overseers of Harvard University, the New York Commission on Independent Colleges and Universities (CLCU), Pfizer, and is a director of HSBC Bank North America.
Dr. Fergusson (the former Vassar president has a PhD in art history from Harvard) lived in the Jane Street apartment for 21 years. The red-brick apartment house—one of the largest in the West Village—has a common roof garden and a garage. "This rare to find home is located in a prime west village [sic] 24-hour doorman building," according to the listing with Douglas Elliman. The "sunny and bright" apartment has "open protected views looking south and east."
Though the listing boasts, "the apartment is in move-in condition." Mr. Parks confided that the couple, "plan on doing a little work on the bathroom and kitchen" before moving in in the spring. Until then, Mr. and Mrs. Parks will remain in the Upper East Side apartment they currently rent. Why the dramatic shift of neighborhood? "My sister lives right nearby in the West Village at 302 West 12th, another nice West Village building. And we wanted to be close to her and we like her neighborhood."
The couple have been looking to buy for about six months–since their summer wedding–and are thrilled to have found this apartment idyllically located "on a tree lined cobblestone street."
Broker Harriet Norris, who kindly insisted that The Observer refer to her as Harriet rather than Ms. Norris—"I'm really not that old! I know I have a Victorian name but please call me Harriet!"—said of the transaction, for which she had the listing, "I was fortunate enough to have the pleasure of working with such people on both sides–the buyers and the seller. I represented both and it was really just a pleasure working with them."
It looks like this urban fairytale ends happily ever after after all–renovations excluded, of course.
cmalle@observer.com