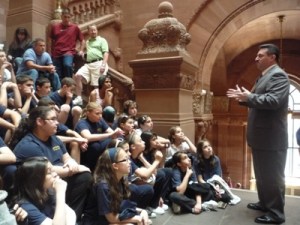 ALBANY—Add another one to the list of reasons a bill legalizing same-sex marriage failed in the State Senate: alphabetical coincidence.
Republicans called for a rare slow roll-call vote, which meant that senators in alphabetical order were called on to say yea or nay. Here's an alphabetical list of the senators: three of the first four were key bellwether votes on the bill.
So when Joe Addabbo, the Queens Democrat who voted second, said, "Nay," it became clear to anyone following the public, but not private, nose count that the bill would fail.
"I think that the slow roll call had a consequence, because when people saw what was going to happen, it was inclined to snowball," said Gerald Benjamin, an expert on state government and professor at SUNY New Paltz. "I think the issue of whether it was purposeful is another question. There's a difference between saying Addabbo sand-bagged gay marriage on purpose, or circumstantially because they were called upon first to cast their votes. I'm having a hard time thinking it's purposeful."
After Addabbo came Jim Alesi, a Rochester Republican who visibly agonized over his ballot before voting no. Then came Darrel Aubertine, who also voted no. The final tally was 38-24.
One Democrat familiar with the lobbying effort said that the vote was all but locked in before the roll call. But it was certainly a "public signal."
Addabbo denied he had a snowball effect. Brian Lehrer asked him this morning on WNYC if affirmative votes by him and Alesi might have created pressure on other senators.
"I don't think so," Addabbo said. "I think as a conference they understood what they were going to do. Again, given the fact that nobody spoke on the bill, I think coming into the room it was clear that there were not enough votes. It was certainly there wasn't a strong majority to vote for it. Number one, that was clear. I also think it was clear that there was not enough votes."
While he's being attacked as a traitor—one gay-interest blog called him the "most heinous defector"—Addabbo told Lehrer that he cast his ballot based on the expressed desires of his constituents, and had never been a committed yes.
"I can see that [civil rights] argument. I can see the religious argument. I can see the morality argument. Again, I can see the argument on many levels," Addabbo said. "I've always kept my feelings personal because I am but one opinion. And it's an issue I really don't have strong convictions on either way. That's why I did keep an open mind. I felt that I was most neutral up until the end."