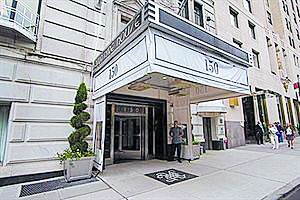 Penthouse A at 255 East 74th Street epitomizes the new Wall Street apartment: a sound, convenient investment with all the bells and whistles but none of the glitz. The 76-unit building was designed to cater to families—apartments of three bedrooms or more comprise three-fourths of the building. This is for the family-man banker who values time with his kids, as well as healthy margins.
The penthouse apartment, asking $11.75 million, speaks to the investment market rather than the celebrity or prestige market, said David Lowenfeld, one of its developers. "We don't have any athletes or Page Six people in our building. Some people like that notoriety about an address, but our buyers are looking for a sound investment that provides comfort and convenience to their family.
"Our competition for a unit like this is really Park Avenue, Fifth Avenue and Central Park West. But the buyer is getting a comparable commodity for 20 to 30 percent less than the other options—once you include renovations and co-op fees. Wall Street businessmen like to buy here because it is both a good value and an ideal way to raise a family in Manhattan. It is a perfect home for the successful Wall Street banker with a family. They like it because their wives love the Equinox; and their kids love the play center and they don't have to do any work to remodel it before moving in like you would with most of the older co-op buildings on Park and Fifth. You just bring in your personal decorator and put your key in the door."
The Hit Factory, at 421 West 54th Street, is a glossy development in Clinton. In 2007, this might have looked to Wall Street as its main market, but these days, despite high bonus forecasts, bankers probably won't be beating down the doors, says Warburg Realty broker Steven O. Goldschmidt, who has the listing for the $3.9 million penthouse: "The bonuses are not necessarily going to have an effect on markets like this."
The historic building, which holds the claim to fame of recording artists from Barbara Streisand to Michael Jackson, boasts a lobby with 13-foot ceilings and honed granite floors; a common roof deck that resembles the Soho House without the pool; and a state-of-the-art fitness center.