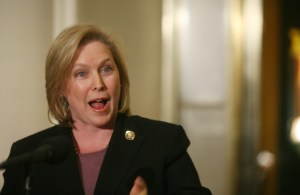 Yesterday, Jon Cooper was coy about who had arranged the decisive Capitol Hill dinner with Senator Kirsten Gillibrand that led him to stand down from a primary challenge and endorse her candidacy.
Now that it's all behind him, Mr. Cooper said he's gotten permission to reveal that it was Andrew Tobias, treasurer for the Democratic National Committee.
It's not surprising the party's money-man would want to consolidate all those donors, and in fact, Mr. Tobias has been critical of primaries before. In April 2008, he pointed out the problem with the vigorous primary battle between Hillary Clinton and Barack Obama.
"We are raising something like $80 million a month to compete with each other," he said, pumping his fists towards one another. "The problem is we're raising $5 million a month to compete with Republicans."