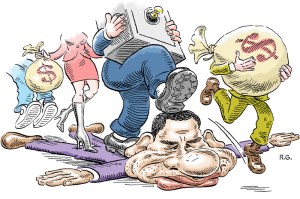 ALBANY—There is a small sign on the wall of the cramped, third-floor Capitol office that state senators walk by on their way to closed-door sessions. It proclaims the "theme of the week," a mix of sarcasm and inspiration set by the Senate president Malcolm Smith. On Monday, it read, "Divine Intervention."
"I'm a man of faith, so I always pray," Senator John Sampson, the leader of the Democratic conference, said just after noon as he walked past the sign. He had been asked if there was any prayer of reaching an agreement to bridge a roughly $3 billion budget imbalance. "We're working hard. We're working very hard."
Here in the Capitol, a combination of prayer and hard deliberation gets you … a tentative budget agreement that solves no long-term problems, makes all parties to the accord unhappy and is almost certain to be litigated.
Mr. Sampson had just met with Sheldon Silver, the Entish speaker of the State Assembly. He did not say so, but after a four-week stalemate, he and Mr. Silver were ready to take a $2.8 billion deal package to David Paterson. It was the only thing Mr. Sampson could get his Senate Democrats—who hold a one-seat majority in the highly dysfunctional 32-member chamber—to agree to, and its apparent acceptance by the governor the evening of Monday, Nov. 30, ended a game of fiscal chicken that Mr. Paterson and senators had played for over a month.
'My question is: When are they going to do their jobs?'—David Paterson
The next morning, confusion reigned. The New York Post's Fred Dicker played the Twilight Zone theme on his morning radio show. Bills that legislative leaders were expecting didn't immediately materialize. Mr. Paterson went on the radio to say the legislators "want to get out of Albany by taking on half of the problem," and the agreement "isn't recurring and isn't particularly real."
No one knew if this was calculated bluster or genuine disagreement. Mr. Sampson went once again to Mr. Silver's office, and said when he exited that "we have our staff working on a compromise."
Finally, Mr. Paterson said at 11 a.m. that the argument had shifted over who would send what bill language when and in what form, but he was tied to the Legislature's "last, best and final offer."
"Look, the reality is that when John Sampson says, 'I don't have 32 votes for something,' it's no longer a negotiating tactic," said a frustrated Senator Eric Schneiderman, a Manhattan Democrat who is one of Mr. Sampson's top lieutenants. "Everybody, including the governor, has just got to accept that."
Mr. Sampson is a bulky man who rations his words as if they were a precious commodity, and who arguably has the least enviable job in Albany. He is in charge of herding a factionalized group of Senate Democrats who have realized over the course of a year that any one of them can hold out for whatever they want until everyone else tires of the stalemate and gives it to them—the individual benefit trumping the collective good every time.
This time the issue was proposed cuts to school aid in the middle of the year, and according to conversations with several Democratic senators, the principal obstructionist was Long Island Democrat Craig Johnson.
"My position's very clear: It's about protecting the property taxpayer throughout New York State, it's about protecting the children and our schools—private or public and the parents who send them and the grandparents who love those kids," Mr. Johnson said on the chamber floor Monday, insisting that he is not just focused on his political well-being. (There are the children, but there are also the members and dollars wielded by the teachers' union.)
"I'm being what I'm supposed to be, which is a state senator representing not just the seventh senatorial district, but the residents in New York State," he said.
At first in private, and then publicly, Mr. Johnson drew his line in the sand. Others—including Brian Foley, Darrel Aubertine, David Valesky, Andrea Stewart-Cousins and Bill Stachowski—joined him. Republicans took the same position because, out of power, they could. (They were opposed to mid-year cuts to school aid last year, too, when they controlled the Senate.) Mr. Silver and his colleagues in the Assembly sat frustrated. The state was stuck.