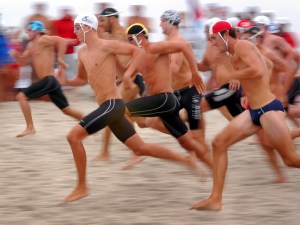 How might the multibillion-dollar Comcast-NBC deal impact the network's traditional summer social scene in the Hamptons?
For years, a great diaspora of NBC talent—Jerry Seinfeld, Jeff Zucker, Alec Baldwin, Matt Lauer, Ben Silverman and so on—would spread along the stretch of the planet that runs between Southampton and Amagansett between June and September.
But the Comcast guys, according to early scouting reports, harbor dubious taste in vacations spots.
Brian Roberts, the 50-year-old CEO of Comcast, is said to be a Vineyard guy—disconcerting but not disastrously so. Far more troubling, however, is Comcast COO Steve Burke's reported love of the Jersey shore. Okay, not the one with the well-gelled mama's boys flexing their sculpted abdomens currently being exhibited on MTV. But still, Jersey.
The old boss, Mr. Zucker, has a house in Amagansett. The new boss, Mr. Burke, has a house in Mantoloking, which according to Wikipedia is a small town with nice views and a swell yacht club located on a barrier peninsula approximately 50 miles south of midtown.
According to the author Gay Talese, who was born in Ocean City and still has a home there, the more expensive beachfront communities up and down the Jersey shore are crawling with anonymous Comcast executives and their families vacationing from the Main Line and Philadelphia. "I don't know who they are," said Mr. Talese. "But they are around, sunning their toes, warming their fat bellies out on the beach."
Is it possible that in a gracious act of corporate diplomacy, Mr. Burke might forswear Mantoloking for a proper place on Lily Pond Lane in East Hampton?
Not likely. "Living in Philadelphia, I don't know that he's ever spent a whole lot of time out on Long Island," said Mr. Burke's younger brother William, a former TBS executive who recently co-wrote a book with Ted Turner. "I once did a triathlon with [Steve] in Sag Harbor called the Mighty Hamptons. So I know he's at least seen the territory."
That was 25 years ago.
These days, according to William, if Steve were to succumb to the temptations of another vacation spot, it would likely be well beyond the outer reaches of the jitney. "Increasingly," said the younger brother, "he's doing a lot of fishing and that kind of thing out in Montana." Yes, the second home of anchor–turned–dude rancher Tom Brokaw.