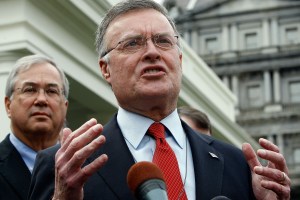 Bank of America is paying back that $45 billion debt to the government, and the accepted angle on this news is that the embattled bank–now free of the government's heavy hand–can more easily find itself a new, big-name C.E.O. (They'll even let him live in New York!)
But what about the bank's current big-name C.E.O.?
In September, Ken Lewis announced in a huff that he would step down at year's end, but if the big payback makes it more enticing for an outsider to step in, it would also seem to make it more enticing, in theory, for Mr. Lewis to stick around.
At the time, sources said Mr. Lewis was tired of all the criticism, but that criticism would presumably ease up now the bank is back in the black and back in the government's good graces. Perhaps there are even some accolades to be had, if Bank of America can continue its recovery.
Of course, there's still the issue of Andrew Cuomo, who's been probing whether the bank lied to shareholders about its deal for Merrill Lynch. But will Mr. Cuomo be as aggressive going after a bank that's repaid its debt?
Even before the news, some analysts were calling for Mr. Lewis to keep his job, leading Mr. Lewis to say, "I don't plan on being there next year."
"Plans," as we know, can change.