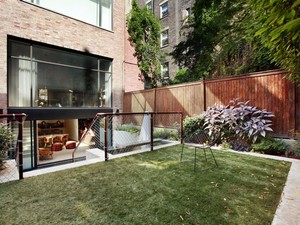 Less than a mile from each other, the two priciest apartment sales of 2010 are neatly nestled not on the Upper East Side's Gold Coast nor along Central Park West but in two nearby Village blocks known for their signature architecture and superlative charm. Ninety-Two Charles Street recently closed for $13.58 million, according to Corcoran broker Maria Pashby, who had the listing. A few blocks east, city records show that 16 West 12th Street sold for $15.35 million.
The 23-foot-wide, single-family townhouse at 92 Charles, built in 1836, was purchased by über-investor Michael Hirtenstein, who went to contract on it in early November and closed this month (he could not be reached for comment). "It's an amazing property-in the first 10 days of showing I had six offers and a signed contract," said Ms. Pashby. Amazing indeed. The home has a 22-foot, south-facing garden; an elevator; a wine cellar; and three fireplaces.
The seller, Armon Bar-Tur, is a managing director of SafeHarbor Holding, which attempted-unsuccessfully, due reportedly to local politics-to build a $200 million religious amusement park in Tennessee called Bible Park U.S.A. Now Mr. Hirtenstein can make his own amusement park, the kind with multiple fireplaces and private elevators.
The young year's priciest sale, at 16 West 12th Street, was sold by Lucas Janklow, the curly-haired Adonis who put the cool back in literary agent, and his soon-to-be ex-wife, Sweetiepie restaurant owner Julie Janklow (the deed listed her maiden name, Julie Daniels), to developer Ara Hovnanian and artist wife Rachel. The Janklows (Mr. Janklow politely declined to comment) bought the five-floor townhouse from hotelier André Balazs and Katie Ford for $4.5 million in 2004.
"The house was a white box open from ground to ceiling," super-broker Paula Del Nunzio of Brown Harris Stevens, who had the listing, said. "They gutted it and really maximized the space. It is a very creative and interesting use of the space." Maybe it was that creative use of space that inspired the Janklows to originally list the townhouse at $24.975 million in 2009. While the former couple cut the price by close to $10 million, they still seemed to make that amount in profit from the sale.
Jonathan Miller, CEO of appraisal firm Miller Samuel and author of Douglas Elliman's popular quarterly housing reports, confirmed that the two townhouse's were 2010's priciest sales so far. But he offered a caveat: "You know, a few years ago I got an email and someone was trying to sell Knicks tickets, and it was after the first two games and they had won both games, and the email said, 'Buy tickets to see the Knicks in their undefeated season!'"