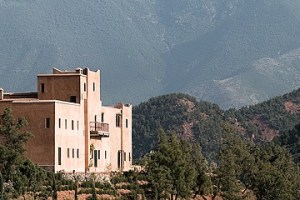 Beyond the hustle and hassle of Marrakech lies the rest of Morocco: mysterious, magical and ripe for exploring! Bab Ourika-in the Ourika Valley, a lush green gateway to the majestic Atlas mountains-opened formally Spring 2009 and is on its way to becoming one of the region's most loved properties. Its authentic, chic and simple Moroccan design with incredible 360-degree views and staff who are not only kind, but show you they want to make your experience a homey one-make for a great, chilled out retreat.
Nature's calm extends into the Kasbah; warm earthy colors mix with traditional Moroccan décor, all pretty basic but very comfortable. Personally, the style that I feel best suits the mountains. Think: corridors that meander, sun-filled loggias, big cushions to read on, antique wooden chests and furniture to admire, and a stunning green pool by which to enjoy or cool from the gorgeous sun. The 15 rooms and suites vary in size, but all have private terraces and individual design; they are well thought through spaces with again, a simple comfort. There is nothing opulent here, and nor should there be! Sunrise, sunset, the moon and starry nights are the magic here. What could be more stunning after all?
Food is home-cooked yummy, and can be lingered over with wonderful Grenache style local wine at various spaces in and outdoors. The owners have savvy and conscience-it's one of the most eco-friendly hotels in the country. Built using traditional Berber techniques, the earthen walls are thick enough to keep guests cool in summer and warm in winter. Solar panels provide warm water and under floor heating-so, do be aware that showers are not hot, rather, warm …. and fireplaces are used throughout the property which creates a glow and enjoyment unto itself. All levels of walks/ hikes are arranged as well as biking, riding rafting, and even skiing. Rural Moroccan life in nearby markets and farms is an experience I highly recommend while staying here. Special, memorable place.
1 hour drive from Marrakech and airport.
Room rates from $219.
www.babourika.com | Phone: +212 661 25 23 28
Ourika valley | Morocco
Suzanne Aaronson, Co-founder of Suzanne's Files, is our Travel Curator. Stay in-the-know on her latest finds and insider tips by signing up to receive Notes from Suzanne's Files, a free e-newsletter.