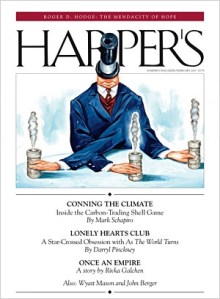 Ellen Rosenbush will be taking over as [acting] editor at Harper's, replacing Roger Hodge. The switch is effective February 1st.
President and publisher John R. MacArthur said in a press release:
"One of the most talented magazine editors in New York, Ellen has a wealth of experience and has worked with everyone from Tom Wolfe to Richard Rodriguez to Joyce Carol Oates; she will continue to draw the highest-profile writers in the country and uphold the quality of the journalism in the magazine."
Rosenbush has been managing editor at Harper's since 1989; prior to that she was at Connoisseur.
Hodge, who was named editor in 2006, got his start there as an intern just 10 years before–a feat sure to inspire would-be interns bold enough to tackle the magazine's arduous application. He is stepping down "to pursue other endeavors."
[correction: the original version of this post identified Rosenbush as the new editor. She is now the acting editor.]