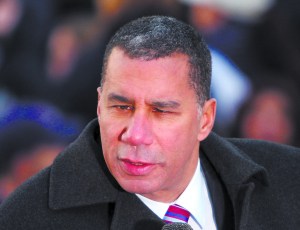 Late Tuesday morning, Lieutenant Governor Richard Ravitch stepped to the podium in the theater at Albany's Empire State Plaza before an audience filled with legislators awaiting presentation of the governor's expectedly grim proposed budget.
Introducing Governor Paterson, Mr. Ravitch took a minute to make a plea-as much as the terse, stoic, raspy-voiced deputy can-for some composure in the upcoming budget debate. "As I introduce him, it is with the sincere hope that the governor will enjoy the confidence and collegiality of the Legislature in trying to deal with this very, very difficult problem, which all of you face together," Mr. Ravitch said. "It's important that you come to a resolution of these challenges, as I said, in the most collegial fashion possible."
Resolution? Probably.
Collegiality? Not if recent history is any guide.
Dysfunction-a descriptor tagged to the Capitol for decades-has been particularly rampant of late, with Albany's new, slim Democratic State Senate majority struggling to find agreement enough to pass anything remotely controversial, and an unpopular governor unable to exert strong influence.
Now, courtesy of the recession, the governor has thrown into the political mixer a budget with major cuts across programs that have deeply entrenched constituencies, making an unavoidable recipe for sparring-in an election year with an anti-incumbent mood, no less. At $133 billion, the budget has a growth rate below inflation from last year; the governor needs to close a deficit of $7.4 billion, and he has proposed $4.9 billion in spending cuts and $1.4 billion in a scattering of new fees and taxes to do so, in addition to other smaller actions.
What now follows is a three-month dance with the Legislature to try to pass a balanced budget, as required by law. The question is one of just how acrimonious that will be, and, already, there are nascent signs of resistance.
State Senator Carl Kruger, who took a main role blocking the governor's proposals in his rancorous effort to pass a deficit reduction plan in December.
"The DRP was sort of our opening salvo," said Mr. Kruger, who added he would call for substantial structural reforms within government to bring new efficiencies and help close the gap. "I think it's going to be very acrimonious. I think that the governor has taken on the position that the only way that he can sort of raise from the political ashes is by campaigning against the Legislature."
BUDGET CUTS ARE, by their nature, contentious. Every program and job, after all, was put in place at the urging of some person or some group, and more people grow attached to them as constituencies form over time.
"There is no budget solution that is going to make people happy," said Kathryn Wylde, president of the Partnership for New York City. "I think there is no public tolerance for tax increases, and the governor does not have the power to significantly cut programs without cooperation of the Legislature, which seems unlikely."