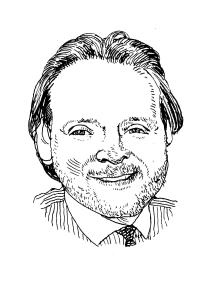 I was sincerely humbled to learn that I was going to be this year's recipient of the Real Estate Board of New York's Louis Smadbeck Broker Recognition Award. I'm extraordinarily appreciative to REBNY, Steve Spinola, Bill Montana and the commercial board of directors for this honor-and to everyone who has, even tangentially, been a part of this wonderful ride.
Probably the nicest thing about being notified that I would receive this award is that it made me take a step back and consider the whole history of my career. And when I did that, I immediately started thinking of all the people who've helped me along the way, without whom I would never have been considered for this recognition.
My first serious exposure to the real estate industry took place by accident, during spring break of my freshman year at the Wharton School, in 1981, when I, along with just about every other Wharton kid, wanted to be the next hot shot to take over Wall Street. I wanted a summer job that would look good on my résumé, so I applied at every commercial bank and investment bank I saw in Bergen County (which is where I grew up). I walked out of a Paine Webber office in Continental Plaza and, across the hall, I saw "Coldwell Banker." I thought it was another bank, so I dropped my résumé off there, too.
Just a few hours later, I received a phone call asking me to come in for an interview the next day. There was no Web in 1981, so I went to the library prior to the interview to do some research on this bank so that I'd be prepared. When I discovered that Coldwell Banker was a real estate company, I almost didn't go to the interview. But I went, and it was the only company to offer me summer employment, so I took the job somewhat reluctantly.
From my first day there, I loved it. It was an energetic environment with hardworking people making a lot of money and having a lot of fun. The result was three college summers working at CB. It was there that I developed friendships with two senior brokers who were willing to befriend a young, wide-eyed kid. Jack Fatigati was always willing to answer any of the hundreds of questions I had, and Tom Mallaney taught me that, despite the commonly accepted rule, nice guys can finish first. I'm fortunate to count Jack and Tom among my good friends to this day, nearly 30 years later.
After graduating from Wharton, I decided to take a full-time position with CB in their Manhattan office. On my first day on the job, I met this other young guy named Paul Massey. He had worked for CB in the same summer program, in Boston, and he'd also decided to give the building sales business a go in the Big Apple. CB had about 50 office leasing brokers in New York at the time, and four building sales brokers, including Paul. The three other sales brokers each had about 20 years of experience and wanted nothing to do with the young kids-so, on my second day on the job, Paul and I formed a partnership that has lasted for 26 years and counting. Thousands of days and tens of thousands of conversations later, I can say that I have been so lucky to have a great business partner who has driven me to do better than my best every day. Thank you, Paul.
The CB years were so much fun. There was a group of us who all started together and went through the "start-up phase" of what was a very challenging but exciting business. Johnny Maher, Kevin Danehy, Paul Myers, Bob Stella, Bob Law, Kim Mogul, Jackie Mansfield and many others were all there with Paul and me, and we all fought to make our mark on the industry. Dinners often consisted of one purchased beer and the systematic dismantling of the free hors d'oeuvres bar at the Charley O's in the ground floor of 437 Madison Avenue.
Paul and I closed our first transaction in March of 1985, a 20,000-square-foot commercial building located at 1421 Third Avenue that almost burned down the night before the closing. But the building survived; the sale closed; and when we got back to the office, our mentor, Gerry Bridges, was happy to take "the rookies" to a grand dinner at Smith & Wollensky. Gerry was a 50-year veteran of CB who could not have been nicer to us. Unfortunately, he passed away last year, but Paul and I will always remember his kindness to us in our formative years. In two weeks, our firm will present the 21st annual Gerald W. Bridges Salesman of the Year Award to our top agent.
In the early days of prospecting, I was fortunate to stumble upon Louis Brause, who owned two properties in the territory I was covering. In my first cold call to him, I explained that I wanted to meet with him to discuss what Paul and I were up to in our new division at Coldwell. Lou suggested a meeting at his office at 52 Vanderbilt Avenue. I said, "Vanderbilt Avenue? Where's that?" I can just imagine what kind of second thoughts that response must have given him. Fortunately for Paul and me, Lou kept the meeting and became a great friend to us. Another of our company awards is named in his honor, recognizing all of the guidance he provided.
As our careers progressed, Paul and I became aware of the Real Estate Board of New York and the tremendous work it does on behalf of our industry. In the mid-1980s, we both set the goal of becoming members of REBNY's Sales Brokers Committee-and after months of harassing Jack Hill, who oversaw the committee in those days, we finally did. It was on that committee that we made several of the relationships that we still cherish to this day. The comradely nature of the sales brokerage business in New York would surprise many people. Among our competitors, we've met a lot of people whom we regard very highly and consider our good friends. In addition to many others, these include Darcy Stacom and Bill Shanahan at CB Richard Ellis; Ron Cohen, Richard Baxter, Scott Latham and Jon Caplan at Cushman & Wakefield; Peter Hauspurg and Brian Ezratty at Eastern Consolidated; and Woody Heller at Studley. They are all the finest of professionals and among the nicest people you could meet.