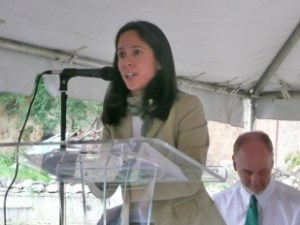 Priscilla Almodovar is headed to the banking world.
The talented attorney was, until last month, president of the state's housing finance arm, the Housing Finance Agency. This morning, JPMorgan Chase announced that Ms. Almodovar has been brought on as the chief operating officer of the Community Development Banking business at the bank, a group that does affordable housing and economic development finance.
Ms. Almodovar's new gig comes as her husband, Eric Dinallo, is gearing up for a potential run for attorney general (a vacancy there, of course, is not yet official).
Ms. Almodovar's departure last month was followed by Deborah VanAmerongen, the state's top affordable housing official. Like Ms. Almodovar, she went to the private sector.
ebrown@observer.com