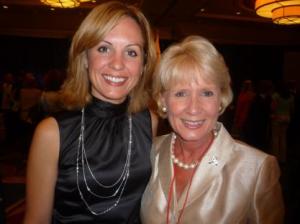 Two-term Assemblywoman Mary Pat Angelini (R-Ocean Twp.) says she might challenge U.S. Rep. Frank Pallone (D-Long Branch), the chairman of a key House subcommittee that approved President Obama's health care plan.
"This is all speculation. It really is," said Angelini, who acknowledged that she has been mulling a congressional bid.
When asked how she thought of Pallone's job performance, Angelini sounded more like a candidate.
"Unfortunately I think he really has kind of lost touch with who he's representing," she said. "I think you do see that sometimes. These folks stay in office too long and forget where they went in to begin with."
That's about all Angelini will say about Pallone right now. On the prospect of running against the 21-year incumbent, she's still noncommittal, insisting that she's focusing on her work in the assembly, where she was just sworn in for a second term, and as executive director of the anti-drug organization Prevention First, which she's run for 17 years.
But the fact that Angelini, 55, is even considering running against Pallone indicates that the state GOP has taken an interest in this district, which they've basically ignored since then-political neophyte (and later congressman) Mike Ferguson ran against Pallone in 1998. Democrats have a registration advantage over Republicans in the district of almost three-to-one.
And although Republicans tend to acknowledge in background conversations that defeating Pallone is a long shot, they would not mind giving him a run for his money — all $4 million of it.
The reasons are many.
Pallone, whose name is frequently floated as a potential candidate for a U.S. senate seat, has the most cash on hand of any congressman who is running for re-election. New Jersey residents far outside his district even saw cable ads for his 2008 reelection campaign, a strategy meant to bolster his statewide name identification. Forcing Pallone to spend part of his war chest could strategically help the GOP in future statewide races.
Pallone chairs the House Energy and Commerce Subcommittee on Health, which could get the national GOP interested, partly because of fits their narrative of a popular rebellion against the Democrats' imperiled health care reform bill. He's also communications chair of the Democratic Policy Committee – another reason the National GOP might be interested in punishing him.
But there is one reason above all that state Republicans would love to put up a serious challenge to Pallone: nobody was more aggressive in attacking Gov. Christopher Christie both before and during the gubernatorial race.
Pallone openly criticized Christie for appointing former Attorney General John Ashcroft to a lucrative contact monitoring a medical implant company that had settled with the federal government, and authored legislation changing the way such monitors are appointed.
If Angelini runs, expect the state GOP to invest money in her campaign. But it may not be enough to improve her name ID across the district, which hugs the coastline north of Asbury Park before jutting inland, where it runs through the most heavily Democratic areas of Middlesex County before ending in Plainfield.
"What the State GOP gains from this is forcing Frank Pallone to spend money when he'd rather save it for a potential future statewide run, for senate," said Monmouth University pollster Patrick Murray. "That's the benefit that you get – to bloody him up a little bit."
As for Murray's take on Angelini?
"Yes, she's a viable candidate. But she's not going to win."
A couple lower-profile names have also been floated as potential candidates in the district. Art Gallagher, who writes the influential local conservative blog More Monmouth Musings, named former Monmouth County Freeholder Bill Barham and Monmouth County GOP Vice Chair Diane Gooch as potential candidates. Both told Gallagher that they were considering running.