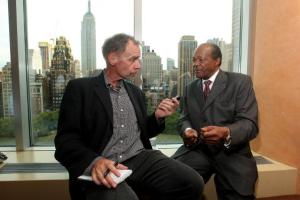 In today's "Media Equation" column, David Carr makes the case for Apple's forthcoming "tablet" as a savior for media. Sure, there are potential pitfalls, but Carr says he's "an optimist":
The tablet, properly executed, will be an iPhone on steroids, and anybody who has spent any time with that device knows that much of its magic lies in replicating that intimate offline navigation. It is a very human, almost innate, urge — readers want to touch what they are seeking to learn.
But not all timeless learning experiences are profound and rewarding. As an example, he cites those mail-order powdered creatures that were supposed to come alive in water:
I haven't been this excited about buying something since I was 8 years old and sent away for the tiny seahorses I saw advertised in the back of a comic book. Come to think of it, the purchase didn't really meet my expectations, but with the whole new year thing, a boy can dream, right?