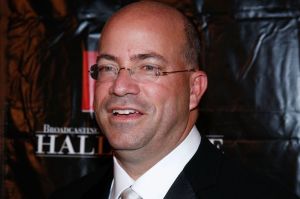 In the month of December, for the first time in modern history, CBS' flagship station in New York, WCBS-2, scored a major victory at 11 p.m.—surging ahead among late night news viewers, and winning the entire month in total households with a 4.9 rating, narrowly topping the formidable WABC-7 newscast (4.8 rating) and trouncing Sue Simmons and Chuck Scarborough at the floundering WNBC-4 (3.0).
A quick canvassing of our sources failed to turn up anyone who could remember the last time WCBS-2 had scored such a victory in the 11 p.m. news battle. "It's the first time in a generation," said one source.
Somebody at the station might want to send a thank you card to Jeff Zucker.
To wit: much of the credit for WCBS-2's revival at 11 p.m. undoubtedly goes to the CBS local stations chief Peter Dunn and his team, who have done much to improve the station's products. But among local news observers there's also a pervasive belief that the resurgence of WCBS at 11 p.m. wouldn't have been possible without a strong assist from decisions made in recent years by NBC Universal chief Jeff Zucker.
"Channel 2 had been running last in the ratings for years and years," said David Diaz, a professor of media and politics at City College. "The contest for number one was always between Channel 7 and Channel 4. Not anymore. The way I see it, NBC dropped the ball, and it was the best thing that happened to Channel 2 in a long, long time."
Mr. Zucker helped out WNBC's crosstown rivals, goes the theory, by (a) rapidly dismantling Channel 4's once proud newsroom in favor of a more cost-efficient "content center" and (b) eroding the 11 p.m. news' lead-in audience by replacing the network's once proud series of 10 p.m. dramas with a more cost-efficient (and lower-rated) variety show starring Jay Leno.
The latter experiment in managing for margins looks to be coming to an ignominious end.
On the morning of Thursday, Jan. 7,  the Web site FTV Live reported that NBC was on the verge of pulling the plug on the Jay Leno experiment. By the afternoon, TMZ was reporting that The Jay Leno Show would go on hiatus beginning with NBC's February Olympics coverage. And, moreover, that NBC executives were already in discussions to move Mr. Leno back to 11:30 p.m. following the Olympics. In a series of subsequent statements, NBC spokespersons reiterated their support for Mr. Leno but failed to shoot down the reports of his potential move back to late night television.
Almost immediately, observers sized up the potential shakeup as a move, in part, to placate NBC affiliates around the country. The news comes just a few weeks after a much talked about article in Broadcasting & Cable in which various NBC affiliate general managers went on the record, bemoaning the effect The Jay Leno Show was having on their 11 p.m. newscasts. "When asked to grade Leno as a late-news lead-in—a focus of the NBC affiliates board prior to the show's launch—the marks were Ds and Fs," wrote Michael Malone of B&C. "One general manager suggested a WTF?"
On January 21, the general managers of those stations are scheduled to arrive in New York for an annual meeting with NBC executives. On Friday morning, New York was buzzing with speculation about whether Mr. Zucker's about-face on the Leno at 10 p.m. experiment would be enough to avert a riot at the coming meeting. "He didn't want to look down at 250 really angry people, who just lost their 11 p.m. news," one TV insider speculated to The Observer. "Now, Zucker is going to have a bunch of affiliate guys saying, hey, you tried something and you moved fast. You failed fast. And now you're getting out of it. Okay."
For its part, WCBS-2 (like various NBC competitors around the country) is enjoying the fruits of its newfound resurgence. This week, fresh off its 11 p.m. victory, the station began work on a new updated, state-of-the-art newsroom.