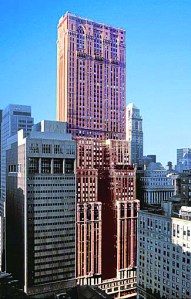 One Grand Central Place
Boutique investment firm Prager Sealy & Co. signed a deal at the building that is a zip code unto itself. The W&H-owned One Grand Central Place, which likes to tout its "white-glove corporate environment," has had its best leasing year ever, according to senior vice president Fred Posniak.
Prager Sealy will take 7,800 square feet on the neo-gothic tower's 16th floor, committing to a 10-year lease. The asking rent was about $50 a square foot. Rising over Grand Central Terminal, the building underwent an $85 million renovation completed last year.
The New York offices of the San Francisco-headquartered Prager Sealy, whose clientele ranges from John Hopkins University to Walt Disney, were previously based at 99 Park Avenue.
Jon Brod and Jason Mankes of PBS Real Estate represented Prager Sealy. Newmark Knight Frank team William Cohen, Ryan Kass and Alison Coffey represented W&H.
egeminder@observer.com