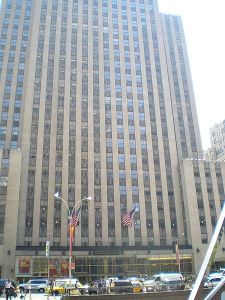 Publishing giant Simon & Schuster renewed its giant lease at Rockefeller Center and, with it, landlord Tishman Speyer's ongoing use of the title "The Simon & Schuster Building." At 275,000 square feet, the publisher stands as 1230 Sixth Avenue's largest tenant by a good deal.
If it hasn't exactly been a triumphant year for the world of publishing, the real estate industry hasn't fared any better-Tishman Speyer in particular (think Stuy Town). Which perhaps explains the early renewal deal that allowed Simon & Schuster to lock in at recession-low rates. According to Real Estate Weekly, the publisher will pay $55 a square foot, expanding its lease by five years beyond its 2014 expiration date. Low rent, the logic goes, is better than no rent and vacant floors.
Simon & Schuster was represented by a CB Richard Ellis team led by Michael Laginestra. Tishman Speyer was repped in-house.