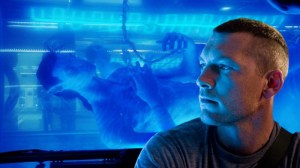 It's déjà vu all over again. The top three films remained unchanged at the box office, meaning the first weekend of 2010 felt a lot like the last weekend of 2009. Once again, Avatar, Sherlock Holmes and Alvin and the Chipmunks: The Squeakquel were win, place and show according to moviegoers. Buoyed by those three blockbusters, total business was up 70 percent from this time last year. As we do each Monday, here's a breakdown of the top five at the box office.
1. Avatar: $68.3 million ($352.1 million total)
Remember when people thought Avatar would be a flop? Just kidding! Down only 10 percent, weekend three of James Cameron's latest history-rewriting epic shattered the record for biggest third weekend gross, a mark previously held by Spider-man, which grossed $45 million during its third weekend in 2002. But that's not all! After just 17 days, Avatar is over $350 million in domestic receipts, meaning it's only the second film in history to reach that number so quickly (The Dark Knight turned that trick in 14 days). And! Avatar also has the distinction of being the only film in history to gross more than $10 million during each day of its release (17 and counting). Oh and did we mention that Avatar is the second highest grossing film released in 2009 and it should pass Transformers: Revenge of the Fallen sometime next weekend to earn top honors? Or that it's only the fifth film in history—and second directed by James Cameron—to cross $1 billion in worldwide ticket sales? We didn't think so. In a word: ka-ching. In another: sequel.
2. Sherlock Holmes: $38.3 million ($140.6 million total)
Lost in the shuffle of the Avatar hysteria, Sherlock Holmes continued to rake in cash, though perhaps not as much as Warner Brothers would have liked. On a normal weekend, a 38 percent drop would be considered tremendous for big-budget franchise starter, but, on this weekend, the depreciation represented the largest decline in the top-ten. Still with $140 million in the bank thus far and no real competition for the foreseeable future, Holmes looks poised to cross $200 million in ticket sales. Whether or not the inevitable sequel does as well is a story for another day.
3. Alvin and the Chipmunks: The Squeakquel: $36.6 million ($157.3 million total)
Seriously, America? The worst part of the success of Alvin and the Chipmunks: The Squeakquel is that it represents a huge step forward from the original. Whereas the first film crossed the $150 million barrier in 20 days, the Squeakquel did so in just 12 days. At that rate, film number three could challenge Avatar. Sigh.
4. It's Complicated: $18.7 million ($59.1 million total)
As usual, Meryl Streep has legs and she knows how to use them. Down just 18 percent, It's Complicated will pass director Nancy Meyers' last bit of adult-themed holiday fun—appropriately titled The Holiday—sometime this week and could challenge the $124.7 million Something's Gotta Give earned in 2003 before it shuffles off to a lifetime of TNT showings. She might not be Sandra Bullock, but there isn't a more reliable female box office draw than Queen Meryl.
5. The Blind Side: $12.6 million ($209 million total)
And speaking of Sandra Bullock… that The Blind Side crossed $200 million at all, let alone after just 45 days is astounding. That it still resides in the top-five and actually saw its ticket sales increase 10 percent from last weekend is, frankly, miraculous. The more money this earns, the greater the chances that Ms. Bullock not only gets an Oscar nomination for her work, but also wins. Lest we forget: Julia Roberts' Best Actress win was for a wildly popular mainstream affair, wherein she got to flash both crazy eyes and a Southern accent. And as anyone who has seen The Blind Side can attest, Ms. Bullock features both of those traits in bunches.