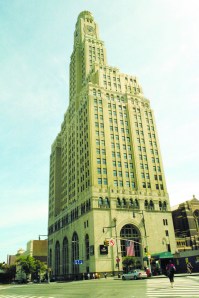 Flea markets tend to sprout in not the most scenic of settings-flat swaths of blacktop, idling warehouses, abandoned lots. The Brooklyn Flea has never claimed to be your garden-variety chipped pottery and dream-catcher-touting flea, the kind of democratizing assemblage of vendors selling out of the back of station wagons. With its careful selection of young designers, its handmade soaps and artisanal chocolate, its foodie-friendly snack stands and vintage wares commanding no small change, the Brooklyn Flea has always been a far more crafted, self-conscious affair. But its relocation to One Hanson Place, the former Williamsburgh Savings Bank, moves it from the realm of hipster-tinged wonderland to something else entirely.
The building, in all its modernist architectural glory, crowned by a somewhat out-of-place golden dome, is a grand and unrivaled flourish in the Brooklyn skyline. It was built in 1927, with all the lavish ornamentation of the era-22 kinds of marble, gold-leaf gilded zodiac figures cavorting across a 63-foot vaulted celestial ceiling mosaic-an era that slipped away just after the bank opened in April of 1929. It's been a beacon for generations of Brooklynites, and if the tower's four clocks frequently told the wrong time (disagreeing, even, with each other), well, that was just part of its Brooklyn charm-charmingly out of sync with the stringent time of its neighbors across the river, comforting in its irregularity. But while the building's exterior may be a pivotal point in the borough's collective consciousness, its interior has been largely shrouded from public view.
Beginning in 2006, in a joint effort by Magic Johnson and a Los Angeles-based private-equity fund, the building was transformed into luxury condominiums, sold with the marketing slogan "Own a piece of history." Event firm Skylight One Hanson now rents the former bank lobby space for large affairs (its Manhattan-based parent company is known for high-end clients such as Ralph Lauren, Vogue and Google). But for the rest of Brooklyn, those who couldn't afford to own a piece of history starting at $350,000, the Brooklyn Flea may represent something of an unprecedented peek.
Eric Demby founded the Brooklyn Flea close to two years ago along with Jonathan Butler, known for his highly trafficked blog Brownstoner, which, since 2004, has chronicled "Brooklyn real estate and renovation." With its dispatches from the front lines of gentrification and development, the site has become known as something of a haven for virulent attacks and gossip, and its creator is sometimes viewed as an influencer as much as a chronicler of neighborhood trends. The flea's immense success is due in large part to the shifts in neighborhood demographics to which Mr. Butler's site is devoted. The tides of predominantly young vintage-seekers have not come without controversy, as some longtime neighborhood residents have objected to the trash and commotion generated on Sunday mornings across the street from Queen of All Saints, a Roman Catholic Church.
On Saturday, the Brooklyn Flea will open in the history-steeped former bank, where it is renting 20,000 square feet of ground floor and basement space, more than triple the space at its former winter home in Dumbo. (The bank's mammoth subterranean vault will be used to house food vendors, Mr. Demby has said.) Surrounded by antique teller windows and sculptures, beneath the borough's collective heirloom pocket watch, Saturday's hawkers and barterers will haggle their way into a new chapter in the neighborhood's ever-revising history.