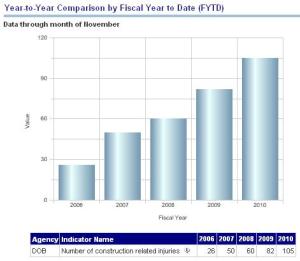 The end-of-the-year tally on construction accidents and fatalities is in, and worksite deaths in 2009 dropped significantly, going from 19 in 2008 to three, according to numbers from the city's Department of Buildings.
At the same time, the number of injuries tallied by the agency rose substantially, from 178 to 246. The agency chalks up this rise to better reporting by contractors, though increased compliance is a difficult measure to quantify.
The number of construction-related deaths in 2008 was the highest in recent years, as two crane collapses alone killed nine. That set off a wave of new and revamped regulation.
However, injuries–or at least reports of injuries–have been on a steady rise. According to the Bloomberg administration's Citywide Performance Reporting tool, injury reports for the first five months of the fiscal year (July through November, the latest data available for 2009) were just 26 in 2005, compared with 105 in 2009.