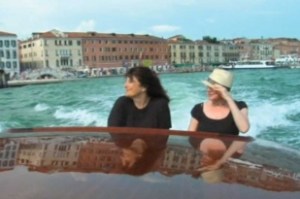 When you embark upon a career like "print journalist," the important thing is having something to fall back on. Such as show business.
The L.A. Times Daily Dish blog caught wind of a Ruth Reichl movie slated for 2010 when the former Gourmet editor visited town last week, and dug up some specifics. The project would be an adaptation of her 2005 memoir Garlic and Sapphires–and while it was originally planned as a comedy series for HBO, it's now in development as a feature for Fox.
Reichl has had quite the trajectory: first PBS, then cinematic glory!
Mediaite takes issue with the the IMDb plot synopsis ("A chef tries to balance her career with writing a book, motherhood and divorce"), but "Chef" does seem like a more promisingly Julie-and-Julia-type starting point than "food critic/editor."