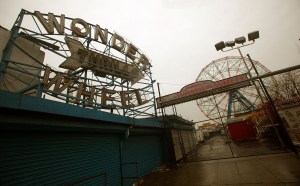 The city thinks it's found a company to keep Coney Island whirring.
Zamperla USA, the American arm of an Italian roller coaster company, appears set to sign on as the park's new operator, according to NY1. Needless to say, the fact Coney Island might re-open–after a winter of uncertainty–is encouraging news.
Less encouraging, perhaps: The Times notes that Zamperla USA isn't really known for operating amusement parks.
But it has other bona fides:
The company usually has the largest single booth at the annual meeting of the International Association of Amusement Parks and Attractions. Its products, like the Zodiac, which has seats mounted on a spinning disk at the top of a tower, show up at amusement parks all over the world.
"Are you ready to dance with the stars on the new Zodiac?" wonders the company's website.
Presumably, New Yorkers are, in fact, ready to dance with the stars on the new Zodiac. Whether the new Zodiac will be ready to facilitate said dancing is another question. Coney Island usually opens on Memorial Day, which means Zamperla USA has four months to prepare its amusements.