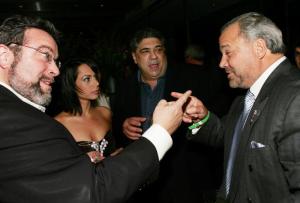 This week's jewelry store robbery and murder continues to disconcert Upper East Siders. It was, The Times writes, "that rarest of New York City crimes": "a murder on Madison Avenue." It cannot be overemphasized that this sort of thing just isn't done around here:
The jewelry shop is one block from the Whitney Museum of American Art, around the corner from the Carlyle Hotel and across the street from a Christian Louboutin boutique. It is about three blocks from Mayor Michael R. Bloomberg's town house on East 79th Street, in a police precinct where last year there were two homicides, and last week there were two robberies and no felony assaults. "Something like this is definitely out of the ordinary," said one officer standing outside the shop.
The Daily News has posted a surveillance video and started canvassing pawn shops.
In fake fancy crime, a Westchester man has been arrested for swindling uptown ladies by assuming impressive online personas. The Daily News reports:
A schlubby online hustler swindled lonely women out of thousands of dollars by claiming to be a down-on-his-luck admiral, a former presidential adviser and even a spy, officials say.

Solomon Nasser, 57, met his victims, typically wealthy women in their 50s, on match.com, plentyoffish.com and other sites.
Among the victims was "an upper West Side artist who gave Nasser more than $114,000 in cash and purchases on her credit cards." It seems unfair that her credentials as an "artist" go unchecked while Nasser gets busted for calling himself an "admiral."
And in other news of fictionalized identities, Bo Dietl—the private eye and former police detective who was portrayed by Stephen Baldwin in One Tough Cop—tells the Post that 10 guns have been stolen from his offices. Unfortunately, he does not know when the theft occurred:
All Dietl could tell cops is that the guns disappeared sometime between Oct. 29, 2007 — when he took them to his office at 1 Penn Plaza — and last Monday, when he discovered they were gone, police sources said….

He said he thought they were in the attic of his home — and realized the snafu only when he went up there in preparation for a move.