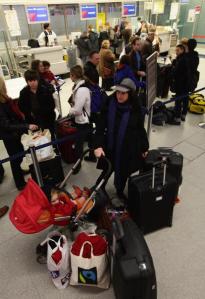 Experiments in crime: the Post sent a reporter through J.F.K. security carrying an eight-inch-long titanium chain, and was alarmed to find that the metal went undetected:
The first time around, the reporter placed the titanium in her right side pocket and sent her purse and bag through the X-ray machine. She walked through the metal detector without setting off any alarm.

On a second attempt, she made no attempt to hide the object, openly wearing it on her wrist. . . .

"What if you have somebody who can forge a two-shot homemade gun out of titanium and he assembles the pieces while in the bathroom of the plane?" said Clint Van Zandt, a former FBI official.
The T.S.A. says that it is "speculative" to suggest that the Post's project points to a security deficiency.
Meanwhile, the Daily News reports that two Bronx cops have left the hospital after being grazed in a "bizarre ricochet shooting." The incident–which involved a pitbull, a foot chase, and an unmarked police car–took place Tuesday night.
The Post and Daily News both cover the Queens principal accused of fondling and harassing students, but the Daily News' has the details that bring the story to life. Ex:
In text messages, the principal allegedly propositioned the teen and reminded him that he'd bought him a T-Mobile Sidekick cell phone.

The student's mother told investigators that [principal Quintin] Cedeno sent more than 100 text messages to her son, including one that said, "All I did for you and you don't want to do for me. You've had a very easy ride so far. If everything stops then it all stops."
Cedeno has been dismissed from his position at the High School for Construction Trades, Engineering and Architecture; and allegations referred to the Queens district attorney.
And, finally, Carmine "The Snake" Persico's daughter-in-law was arrested for shoplifting at a Staten Island Target. The Daily News reports that she was caught on Wednesday with "clothing, cleaning supplies, luggage and other items" worth $597.