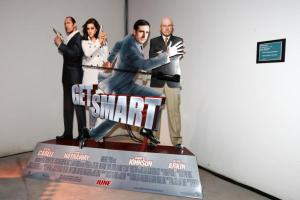 The Post reveals this morning that former NY1 anchor Dominic Carter, who was found guilty of attempted assault on his wife "now beats himself up." He leads a life of  regret:
"For me to be forced to be home all day, it's like I'm in jail," he said over a breakfast of bacon, Egg Beaters and wheat toast at a diner near his Rockland County home.
A sentencing on January 14th will determine whether Carter goes to actual jail.
And A. Kirke Bartley, the judge who presided over the Astor trial, has been parking his S.U.V. illegally, reports the Post in an exclusive. Bartley's car bears a police placard ("available only to a privileged few"), which he uses to avoid feeding meters.
"The abuse apparently has been going on for months," writes the Post.
"I was wrong," Bartley told the paper. "And I'm contrite."
He would not say whether he has plans to make restitution.
Meanwhile, nine-year-old Anthony Maldonado was stabbed to death, apparently by a mentally ill parolee named Alejandro Morales.
"This killing is unusual because it involves a child under the age of 10," explains The Times, placing it in a category that includes just two percent of murders committed in 2009.
Morales's mother tells the Post that her schizophrenic son (currently at Bellevue Hospital) had been pacing a Times Square movie theater a few weeks ago muttering about killing. Maldonado's family tells the Daily News that they want the death penalty.
And a Staten Island assemblyman, Lou Tobacco, successfully stopped a thief. Tobacco was en route to Mayor Bloomberg's inauguration when a distraught woman flagged him down to report a hooded man breaking into cars.
"I wasn't having that. Not in my Assembly District," Tobacco told the Daily News.
He tracked down the suspect, yelled "Freeze," and flashed his State Assembly I.D.:
The suspect, later identified as James Lennon, did as he was told and apparently believed Tobacco when he said that the police were moments away. The whole thing made the assemblyman feel a bit like he was starring in a television spy spoof, he said.

"At that point, it was kind of like Max from 'Get Smart,'" Tobacco said. "I hadn't called the police yet."