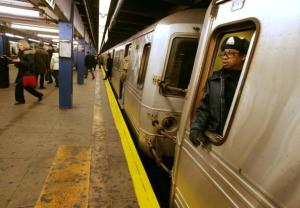 A judge has ruled that the state's juvenile prison system has been breaking the law by routinely shackling prisoners. Writes The Times:
The shackling policy even applied to youths being held at what are known as nonsecure facilities. Nearly all of the youths in nonsecure facilities have been placed there for the equivalent of nonviolent misdemeanor offenses, like truancy, graffiti or petty theft, and most are under 16 years old.
"We had evidence of kids not being able to drink their milk on the way to court because of the chains," Nancy Rosenbloom, a Legal Aid lawyer on the case, told the paper.
The Post calls it a "'kid hogtie' slap at jails."
Meanwhile, emotions run high at the trial of the cops accused of sodomizing Michael Mineo. The Times calls yesterday's testimony a "hostile grilling"; the Daily News says that Mineo lost his temper, and notes the "disgust" of a cop's mother who came to the courthouse out of loyalty to her deceased son's friends. The Post shows a surveillance video that it says will harm Mineo's case, and the Daily News has a photo of Mineo holding up underwear with holes.
The Post and Daily News also both write up a 28-year-old "gold digger" suspected of "preying on elderly lonely hearts," although she appears to be more of a con artist who victimized the mentally handicapped.
And noted subway vandal Henry Matyjewicz, "a.k.a. Poster Boy," has pleaded guilty after cops found him up to his old tricks in a Bushwick L stop, reports the Post:
Sources said Matyjewicz told the cop he should get a break because it was the first time he did it — but admitted he was the infamous Poster Boy after the officer ran his name through a computer.