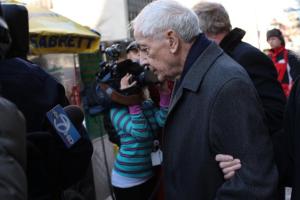 Anthony Marshall and Francis Morrissey—convicted swindlers of Brooke Astor—will stay out of jail pending their appeals, a judge ruled yesterday.
The Times recapitulates Marshall's recent bids for mercy. Last month, for example, his lawyers asked the judge to throw out the larceny charge that carried jail time, which the judge refused to do; later, the defense faulted the judge for ignoring a jury member who said she felt threatened by a fellow juror. Marshall's team wrote that this was "likely to lead to a reversal on every count."
But Marshall's age and delicate condition may remain the strongest arguments in his favor. Reports the Daily News:
According to court papers, Marshall fell in his apartment Christmas Eve and bashed his face against a piece of furniture, sustaining "dramatic bruising" under his eye.

"Where is he going to go? He can't even get around his own apartment," a source close to the defense said.
The U.S. attorney says that Gioeli "continues to consume high-fat foods" and "appears to have a history of eating unhealthy foods." His lawyers say that the foods were intended as holiday gifts for "less fortunate inmates."