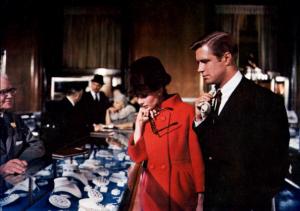 Today, jewel heists and gruesome murders.
A masked gunman entered an Upper East Side jewelry store on Wednesday afternoon and shot a 71-year-old employee after he refused to hand over his wares.
The Daily News says:
A source estimated that 80% of the store's inventory was taken, including at least 20 valuable pieces that were stripped off mannequins.

"Well into six figures," the source said of the take.
The police are hard at work, writes The Times: "Officers searched the streets for evidence, looking into crannies with flashlights, and interviewed anyone who could provide clues."
And a woman in Queens was killed by her neighbor, in an attack that was the culmination of years of harassment. According to The Times:
The police said Mr. Chen met Ms. Wu in 2006 when he went to her home-based employment agency looking for help getting a job. According to Ms. Wu's husband, Yongwei Guo, Mr. Chen made romantic advances toward Ms. Wu, and she rebuffed him.
Tuesday evening, he found her in the hallway outside her apartment and set upon her with a hammer and knife. After killing her, he apparently ripped out her lungs and heart, a detail that the Post calls "a gruesome twist straight out of a slasher film." The police recovered the weapons and bloody clothing (which the landlady apparently helped Chen dispose of) but they have yet to find the organs.
Meanwhile, in nonviolent crime, the Builders Group has been chared with stealing $7 million through "fake invoices and kickbacks," and Peter Madoff (n.b.: "brother of convicted Ponzi schemer Bernie Madoff") is apparently the target of his own criminal investigation.