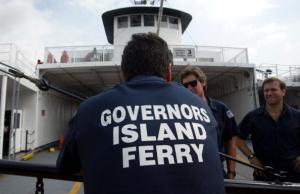 All three dailies cover the stabbing of event planner John Lea, who was found yesterday in his 46th Street apartment, hidden under a pile of clothes. The police are now searching for the man who had been living with Lea—"a roommate," according to The Times; a freeloading gay lover, according to the Daily News:
Investigators were trying Thursday to track down Lea's lover, whom Lea allowed to stay at his flat after the two met recently at a nearby gym, friends and neighbors said.

A co-worker of Lea's, Michael Herz, said the lover – identified by friends of the victim as Justin Waller – was "down on his luck" and was supposed to stay with Lea only briefly.

"A few days turned into a few weeks. A few weeks turned into a month. A month turned into two," Herz said. "This weekend is when John was going to tell him he had to leave."

Herz added of his slain co-worker: "He was an extremely giving person and, apparently, that's what ultimately did him in."
Neighbors, who say Waller "creeped [them] out," saw him outside the building with suitcases on Wednesday.
Meanwhile, the trial of three police officers accused of brutalizing Michael Mineo continues. The Daily News says the defense has "branded the alleged victim a lying scammer who caused his own injuries – while his hands were cuffed behind him." The Times provides an account of witnesses' testimony. According to James Dallas, who is 13 "and wore a gray suit to court":
As Mr. Mineo tried to escape, one officer "clotheslined" him, James testified. Then the officer, whom defense lawyers identified as Noel Jugraj, threw Mr. Mineo against the wall and onto the floor, and kicked him in the face, according to the boy. Mr. Jugraj has not been charged in the case.

James said that he did not see anyone insert an object between Mr. Mineo's buttocks, but that an officer was blocking his view. He testified that he heard one of the officers ask Mr. Mineo where the drugs were, and another say, "In his butt." Mr. Mineo replied, "I didn't put it in my butt. I swallowed it," James said.
James' father, also named James, is expected to testify eventually as well.
And Lower Manhattan community boards are not keen on the idea of transforming the area into a fortress for the 9/11 trials. Reports the Post:
"It's totally outrageous that we would position some of the most dangerous terrorists right in the middle of our government centers," said Jeanie Chen.

"Please do not throw Chinatown and the civic communities under the terror trial truck."
"We do not have that exact capacity," said National Counterterrorism Center Director Michael Leiter when asked to explain how a misspelling of al Qaeda-trained underwear bomber Umar Farouk Abdulmutallab's name in government files allowed the plot to go undetected.