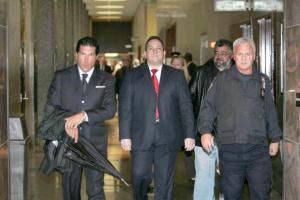 This morning The Times dissects the videotaped confession of murder suspect Natavia Lowery. Lowery, the onetime personal assistant of celebrity realtor Linda Stein, confessed to bludgeoning her boss with a yoga stick, but later recanted. Her lawyers say that the prosecution wants to have it both ways, giving credence to her confession while ignoring its factual inconsistencies. The prosecution says that the inconsistencies are the result of Lowery's attempts to cover up the true motives for her crime. She had apparently opened credit cards in Stein's name and run up thousands of dollars in debt.
Meanwhile, the man suspected of murdering event planner John Lea last week left a similarly fraught trail for investigators. Writes the Daily News:
Justin Waller, 31, used victim John Lea's plastic to pay for the getaway ride to a hideout in southern Vermont, then used the same card to pay for groceries nearby.

The credit card spending spree left a money trail that virtually led cops to Waller's doorstep – and when officers caught up with him he implicated himself in the slaying, cops said.
N.Y.P.D. dectectives caught up with Waller in Manchester on Friday morning.
And as he fights expulsion from the State Senate, convicted "girlfriend beater" Hiram Monserrate has compared his plight to that of murdered civil rights workers in the sixties.
"Students from the college that I went to died to help African-Americans have the right to vote," he said. "Today, the Senate would seek to push back the clock and discredit the major movement that occurred here in the United States to protect the rights of all Americans."
Last summer, the Daily News reminds readers, he "likened himself to Jesus Christ."
In other news of poor judgment by New York City politicians, Brooklyn Borough President Marty Markowitz likes to speed around town with police sirens and flashing lights. A spokesman explains that he does so only "with great discretion," en route to speeches and other city functions. According to the Post, Markowitz's peers are dubious.
"I can't imagine the possibility of when we would use it," a spokesman for Bronx Borough President Ruben Diaz Jr. told the paper. "The first new meeting of the Board of Education, when mayoral control lapsed, we were stuck in traffic on the West Side Highway. We waited in traffic. We were an hour late."
Today The Times profiles John Patten, an attorney who defends cops. He is perhaps best known for defending the officers who shot Amadou Diallo, and is now working for the men implicated in Michael Mineo's subway sodomy accusations. Of the earlier case, The Times writes:
To convince jurors that his client had fired his weapon only because he feared that Mr. Diallo's wallet was a gun, Mr. Patten delivered his closing argument holding his own wallet between the thumb and forefinger of his left hand; in his right, he held a starter's pistol, showing how one could be mistaken for the other.

"I don't think anyone holds a wallet that way," said Eric Warner, the chief prosecutor in the Diallo case, recalling with admiration his opponent's gimmick all these years later. "But he convinced the jury."
And finally, in the Bronx, police bought back more than 1,100 weapons from civilians yesterday. The Post reports that the buyback program was a response to a recent rash of stray-bullet shootings. Participants received a $200 cash gift card in exchange for each gun.