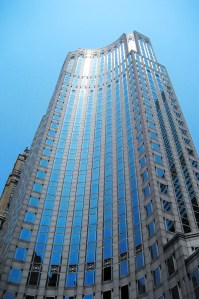 Under the leadership of Bear Stearns' refugee Alan Schwartz, investment bank Guggenheim Partners is apparently busting at the seams.
The Chicago- and New York-based investment firm, which manages more than $100 billion in assets, has hired commercial real estate brokerage Jones Lang LaSalle to locate substantially more office space-about 150,000 square feet-for its New York staff. Right now, the firm occupies about 100,000 square feet at the Cohen Brothers' concave-faced 135 East 57th Street. If our lamentably poor math skills are correct, that's a whopping 50 percent expansion.
Not too shabby for Mr. Schwartz, who was named Guggenheim's executive chairman in June after having to sell Bear Stearns to JPMorgan Chase in 2008.
The proposed office expansion would seem to be in keeping with Mr. Schwartz's-and Guggenheim Partners'-intentions. In June, the last Bear Stearns CEO told The Wall Street Journal, "Fate has dealt me an opportunity to start from scratch."
Any headquarters relocation would have to come prior to the firm's lease expiration in early 2013. The firm, founded by the same family that built the Guggenheim museums, will almost definitely stay in Manhattan.
JLL international director Peter Hennessy, who is representing Guggenheim, declined to comment, as did Guggenheim spokesman Jeffrey Kelley.