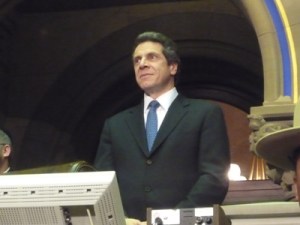 ALBANY—Andrew Cuomo had a reception outside his Capitol office right after the State of the State speech, which was packed with lobbyists, and legislators of both parties saying hello.
Eventually, reporters cornered the attorney general, who began by kibitzing with the now-bearded Danny Hakim.
"You're shaggy," Cuomo said, pointing to Hakim's jaw, captured on a video at nysnys.com. "Count 'em: seven, eight, ten gray hairs. I'm there already, my friend. As long as it's there, I don't care what color it is."
Cuomo was asked about Paterson's speech, which focused on the need to rein in spending and reform ethics oversight.
"The outline of the direction is right," Cuomo said. "Where I think we've had trouble in the past is actually getting it done."
He didn't say much more substantive in various grillings from other reporters. He said the current disclosure form for legislators is "not serving its purpose" and that he was wary of forcing attorneys to disclose their clients, which has "ethical issues."
Paterson stopped by the reception to see Cuomo, but the two barely chatted. They did speak, "warmly," in the "holding room" before the speech, Cuomo said. Cuomo sat on the rostrum behind Paterson, and was greeted thunderously upon his introduction.
Hakim asked Cuomo if he was going to run for governor.
"How many gray hairs do you have?" Cuomo said. "Attorney general of the state of New York. You don't like that office?"
In response to further questioning, Cuomo revived such stock hedges as "I'm focusing on my job as attorney general," "once the political season starts it actually can impede what you can get done," and "my only plan at this time is to run for re-election as attorney general."
And what about Sheldon Silver's prediction last week that he would run?
"We have to get into the future to find out if the prediction were right," Cuomo said.