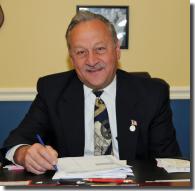 A couple of retired cops who ended up on opposing sides of the industrial political landscape in Linden now prepare to rush each other headlong in the 2010 mayor's race, which pits the maverick incumbent – best known most recently as the man who stopped an alleged thief in a 911 rundown late last year -against a wounded county Democratic organization that has something to prove after last year's Hillside humiliation.
Mayor Richard Gerbounka, an independent who four years ago beat John Gregorio, believes he can handle Gregorio ally Council President Robert Bunk, but he knows Bunk's going to have a bundle of Union County Democratic Committee money to spend against him, in part because Democrats want to try to ameliorate Joe Menza's independent win in Hillside and the impact of Gov.-elect Chris Christie's statewide win.
"The city Democratic Party and Union County Democratic Party, I guarantee you, will dump tons of money into this campaign to defeat me, but Linden voters are smarter that," said Gerbounka. "They know we're in the mess we're in because of this political machine, which gave jobs and excessive salaries to loyal democratic workers. I'll be outspent two or three to one."
Council president here for the last 16 years, Bunk said he wouldn't have a problem with receiving that kind of party organizational support to oust Gerbounka.
"I've always wanted to be mayor," he told PolitickerNJ.com. "I wanted to be mayor 12 years ago, but I didn't run out of respect for John Gregorio, my good friend.
"I would hope to get the party's backing, but I have not sat down and discussed my running with them one way or the other," he added. "That will be in the coming weeks. I'm working on it."
Onetime home to General Motors, a factory city where 100,000 people everyday went to work, Linden, pop. 40,000, now gets by with Citgo gas company and a couple of trucking companies and refineries.
Bunk is challenging Gerbounka in part with the complaint that the mayor hasn't brought in ratables.
"It's something he simply hasn't down," said the council president. "Cities live on ratables. That's how they keep the tax rate low. My city has several businesses that have left and not been replaced, but people come to him as head of the city and he's supposed to come to the council and say what kinds of projects we have going on, and that hasn't happened in three years under this administration."
As for the kind of development the mayor champions, including a revamp of the 98-acre DuPont property as a PurGen coal degasification plant, Bunk doesn't approve.
The council president led a 7-4 council vote to defeat the measure before setting up a committee that tonight will consider variations on the intiial proposal with key environmental concessions.
"One of the things I'm most proud of is that I got that project stopped, until it gets settled by the committee," said Bunk, who retired from the police department as a detective before first running for council in 1992. "I'm proud I've serve the people of Linden with honor."
The Democrat is just as proud of his decision to back Barack Obama for president in 2008, while Gerbounka publicly supported John McCain, a fellow Vietnam veteran.
Perhaps ironically given Gerbounka's decision to back McCain, Gov.-elect Christie, a Republican, on the campaign trail last year sided with organization Democrats in his opposition to the coal plant as originally presented.
Gerbounka, who in December made headlines when he apprehended a suspected shoplifter, tonight stood by the general concept of the PurGen project.
"The site in question is a heavily industrial area, designated by our forefathers as a heavily industrial zone," the mayor said. "Let the Environmental Protection Agency decide, not some self-proclaimed environmentalists who don't live in the city."
Irritated by the loss of $1.5 million in state aid with Democrats in power, Gerbounka also said Bunk being in a huff over the dearth of ratables somewhat defies reality.
"He was with John Gregorio, and because of his decisions with the previous mayor we're in the mess we're in now," said Gerbounka. "We have a difference of philosophy. He strongly believes in the Democratic Party and rewarding people who work for their party. He created the Southwood Avenue debacle where we still haven't knocked down buildings."
As for the charge that he hasn't moved speedily enough as an emissary to bring in new development, "In the spring we will break ground on the 104-acre General Motors property. I'm proud of the fact that I – with no lawyer – negotiated a deal with General Motors prior to them selling that property."
Whatever the council president's particular efforts to ramrod development as an issue and to simultaneously make the coal plant project a rallying point for the city's environmental community, Gerbounka argues that his independence distinguishes him as an elected official.
"The reason I want to be mayor again," he said, "is I have a lot of jobs to finish up to return the City of Linden back to the people. I'm an independent and I refuse to march in goose step. For the last three years I've been trying to push my philosophy on managing the city, and I feel i still haven't accomplished everything I want to do. If I step down, the political machine would jump into that vacuum, and I'm not about to give the city back to the Democratic Party. That party is nothing more than a second city union for favored city workers who work hard for the Democratic Party."
Sizing up his lone gun adversary, Bunk observed, "You have to have team work, That's the main thing."