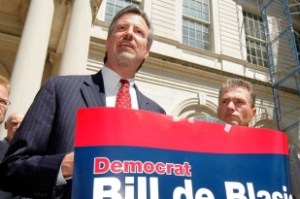 Working with an anemic budget, some of which has already been spent by his predecessor, Public Advocate Bill de Blasio plans to augment his office by training New Yorkers to help do his job—namely, needling the administration.
Mr. de Blasio will announce today that he plans to create a department of community organizing, which will teach New Yorkers how to "successfully fight on behalf of their neighborhoods." He told The Times that the new department could be particularly effective in helping parents go up against the school system, which sounds like he's mustering an army to oppose mayoral control. He's promising to take the office "to a new activist level."
"Every week, you're going to see us out there," Matthew Wing, a spokesman for Mr. de Blasio, told AM New York. So the steps of City Hall could get crowded.
Of course, a well-organized base of support is good for other things too.