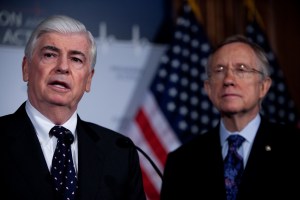 From a political standpoint, Chris Dodd's decision to end his bid for a sixth Senate term makes plenty of sense: His poll numbers were brutal and they weren't changing and defeat next fall—whether to Rob Simmons or Linda McMahon, the two Republicans vying for his seat—was certain. By getting out now, he spares himself the embarrassment of defeat and very likely saves a Senate seat for his party.
But from a personal standpoint, his decision is rather surprising. Dodd, don't forget, is the son of former Senator Thomas Dodd, whose career—and life—ended in public shame, with a Senate censure leading to his defeat in 1970 and his death following a few years later.
Young Chris Dodd ran his father's final, doomed campaign and watched with awe and pride as the old man defied his tormenters and went down fighting. Even as scandal swallowed him up this past year, it seemed a given that Chris Dodd would follow that example and stay in the race to the finish line.
So why is he giving up—and giving his foes a chance to gloat?

Party loyalty may be a factor. One of Tom Dodd's motivating factors for gutting it out in '70 was his sense of betrayal by his fellow Democrats—those in the Senate who rebuked him and those in Connecticut who moved to deny him re-nomination. He ended up running as an independent in the fall, finishing a distant third but siphoning just enough votes from the Democrats to elect Republican Lowell Weicker.
This is not how Chris Dodd has been treated this past year. Yes, he's been facing a primary challenge from a little-known businessman named Merrick Alpert, but it was going nowhere. All of the big players in the Connecticut Democratic Party were sticking with him, and the nomination was his for as long as he wanted it. National Democrats—publicly, at least—were just as supportive. Barack Obama headlined a Dodd fund-raiser not long ago, national donors rallied to his side, and the D.S.C.C. was prepared to pour serious money into his effort.
Mind you, that doesn't mean that party leaders in Washington wanted him to stick around. By last month, it was obvious that Dodd was a dead candidate walking and that no amount of campaign cash would be able to undo the damage of the past year. Connecticut voters had made their minds up about Dodd and tuned him out.
But by offering vehement public support to Dodd, Democrats bought themselves space to maneuver behind the scenes. Recent reports suggested that the White House was. But privately urging Dodd to quit. Many of his old friends on Capitol Hill—politely and respectfully—were probably delivering the same message.
And for good reason: Connecticut is a state Democrats shouldn't have to worry about in a Senate election. Since Joe Lieberman ousted Weicker in 1988, the G.O.P. hasn't come close to winning a Senate race in the state (unless you count Lieberman's 2006 re-election). But with Dodd running, Democrats were going to have to spend a fortune on a race—money that they'd much rather spend in swing states like Ohio and Colorado—they were going to lose anyway. Now, they can replace Dodd with a taint-free candidate, retain the seat, and spend their money elsewhere.
And who will that new nominee be? The right of first refusal will go to Richard Blumenthal, the state's exceedingly popular attorney general. On the job since 1990, Blumenthal has the strongest poll numbers of any politician in the state and has been waiting—for years—for the right chance to move up. If he runs, the race will essentially end on the spot: No one will be able to touch him in a primary or in the general election.
It may be that Dodd is only exiting now because he and national Democrats have been given assurances by Blumenthal that he will run. Time will tell.
If Blumenthal were to pass, things could get tricky for Democrats. Presumably, U.S. Rep. Chris Murphy, an ambitious second-termer who unseated Republican Nancy Johnson in 2006, would be interested. But that would open up his Naugatuck Valley House seat, which in a year like '10 could actually be winnable for the G.O.P. Or maybe Ned Lamont, who just jumped into the gubernatorial race last month, would reconsider and run for the Senate instead. Rosa DeLauro, the long-serving congresswoman from New Haven, could also be worth watching.
Whatever happens, though, Democrats are now very likely—if not certain—to hang on to Dodd's seat, probably at very little expense. The ticking time-bomb that has been Dodd's re-election campaign for his party for a year now has been defused.