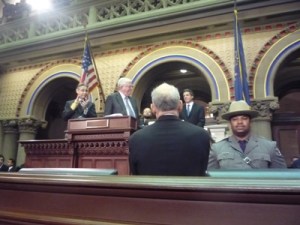 Nick Ayers made a blind joke, then retracted it.
George Marlin has advice for Ed Cox on how to revive the G.O.P. in New York.
Bill Hammond decodes John Sampson.
The L.A. Times blog on Harold Ford: "[A]s a telegenic member of the media's chattering classes, he would get lots of attention."
NPR smartly notes a problem with his candidacy. "What will be fascinating to watch if Ford decides to run is how he shifts his political stance. For instance, he's chairman of the centrist Democratic Leadership Council."
Kathy Wylde calls Christine Quinn "a favored candidate to succeed the mayor."
Daily Intel's headline: "Mayor Bloomberg Gave Christine Quinn Permission to Endorse Thompson."
Bloomberg's letter to Orszag moves on to the A.P.
A school will be named after Percy Sutton.
A study finds positive health and economic results from the city's calorie-count measures.
Bloomberg's soulmate withdraws his support for the health care reform being negotiated in Washington.
The National profiles a Bloomberg aide who is Muslim.
Larry Littlefield isn't impressed with the U.F.T. lawsuit.
John Liu tweets about his staff.
Jonathan Martin ponders the Sharpton-Paterson ride.
And pictured above is Jimmy's photo of Andrew Cuomo during the State of the State speech, right before he "blew a kiss to all of us."
Below, Senator Ruth Hassell-Thompson's reaction to the speech: