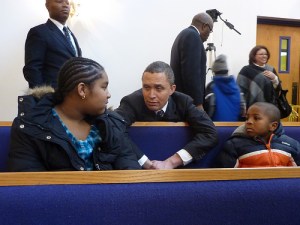 "Most polarized ever."
Washington Monthly: "After reading his op-ed, it's even more difficult to take Ford seriously than before."
If Harold ord can do it, why not Pataki?
Guests on the Steve Gill show praise Ford.
Everyone, meet Alex Carey.
Michael Bloomberg said the governor's budget will lead to layoffs in the city.
John Liu concurs.
After Liu wrote on Facebook about remaining committed to his job, Vallone Jr. wrote "wow, after 25 days you still remain committed huh? now that's dedication." [no link]
David Paterson tries dragging Andrew Cuomo into the limelight.
Waiting could hurt Cuomo.
Pat Kiernan tries fixing the internet.
We're living longer.
Will Marc Molinaro run against Scott Murphy?
And pictured above is Ford, in Buffalo yesterday, getting advice from young voters.