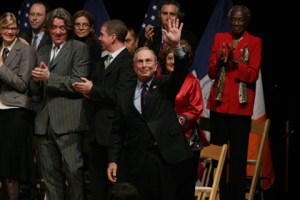 Scott Brown was elected for the same reason Obama was.
Mort Zuckerman: "He's done everything wrong."
Maybe it was about health care after all.
Gatemouth: "The bill which almost became law was sausage, but it was better than going hungry."
Rasmussen has Gillibrand leading Ford by 25 points, but she's only at 48 percent.
Gillibrand's favorable to unfavorable rating is 59 to 27.
The person running the Ford Report is staying active.
Calderone picks up on News Corp's donation to Cuomo 2010.
Bruce Blakeman is against Obama's health care plan, against same-sex marriage and against the tax on bankers.
Michelle Paterson writes about health care.
Chen: Bloomberg " focused more on the incremental rather than the innovative."
DMI (which a Bloomberg advisor used to run) slams the speech.
Techies seem happier with the speech.
Fred Dicker got Appelbaum's letter early.
Incumbent Tim Bishop is only at 47 percent, in this Survey USA poll of likely voters in his district.
Celeste Hardwick sees the Long Island angle in Scott Brown's victory.
The charter school cap legislation became a "leadership issue."
The Working Families Party picks assembly candidates: Weprin, Thoden and Harckham.
This woman isn't happy with Schumer and Gillibrand's constituent services.
Here's a picture of Quinn, Dromm, Viverito and Van Bramer in Puerto Rico.
And Dan Squadron makes the case for the ethics legislation in Albany.