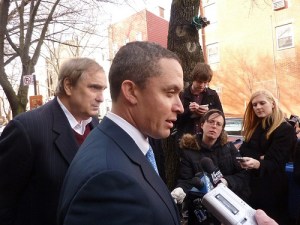 Michael Bloomberg hammers Obama over the bank plan.
Bloomberg says layoffs.
"Junior had the courtesy to introduce himself on the phone, and then the profanity would fly."
Karl Rove: "He's an aggressive campaigner and an articulate, attractive candidate who can sway crowds."
The Memphis Flyer said Ford supported lifting the ban on corporate contributions to campaigns 1999.
Andy Campbell: "[W]hile virtually every member of the state's Democratic establishment has backed first-term incumbent Kirsten Gillibrand for re-election, Lopez is playing the Sphinx role."
Kevin Parker could get the Monserrate treatment.
Dov Hikind is key in Boro Park.
Malcolm Smith has a virtual town hall meeting.
The right likes Levy.
Rick Lazio was on the 4 train, by himself, according to a reader, who sent proof.
And pictured above is Ford meeting with Vito Lopez in Brooklyn today.