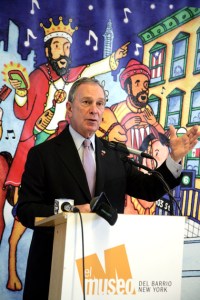 George Pataki slammed Barack Obama on terrorism.
Money raised, but then "frozen," for a 2013 race is eligible for public matching funds.
Bill Thompson told the Amsterdam News he's going to run for mayor. "A pin dropped in the corner of the room."
David Paterson says judge his plan, not rate of success.
Susan Molinari may challenge Kirsten Gillibrand, but cautions, "This is very early in a conversation I'm having with myself."
Planned Parenthood said Harold Ford Jr. "does not stand a chance in this pro-choice state."
Pataki's daughter is now working for Michael Bloomberg, and making $70,000 annually.
Bloomberg visited Columbia University.
Joel Klein called for cutting school budgets by one percent.
Domenic Recchia's new job makes it into the Post.
Dan Halloran sang some karaoke at his inauguration (it's a trend!).
Karen Koslowitz says she can see Queens Boulevard from her window.
Peter Koo on John Liu: "He proves that in New York City anything is possible."
Here's an op-ed urging Noach Dear to stay on the bench and not run for Council.
The heroin flyer won't be available online, but it's still in print.
Yetta Kurland was assaulted.
Byron Brown gets criticized for not hiring people fast enough.
Libertarians, your hopes rest with Eric Sundwall.
And pictured above is Bloomberg at a recent Three Kings Day event.